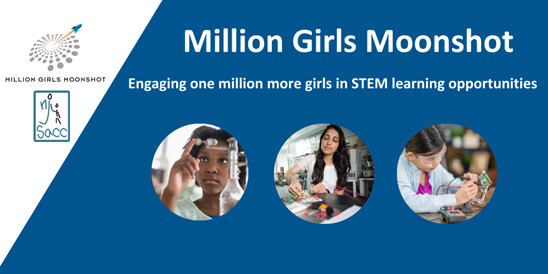 The Million Girls Moonshot: March Quality Trainings and Transformative Practices
The Moonshot will be active in out-of-school programs in all 50 states, leveraging the Mott-funded 50 State Afterschool Network, which has access to more than 10 million youth and 100,000 afterschool programs across the country. Over the course of the new year NJSACC's STEM Specialist Chris Jorn will bring you The Million Girl Moonshot monthly newsletter. Each month Chris will be rounding up accessible training opportunities, role models, and most importantly STEM activities for New Jersey's after school community.
This month the Million Girls Moonshot celebrates Earth Day and Environmental Education
Week! Now is the time for all of us — education, business, and civic leaders — to take action on
climate in order to preserve and protect our health, our families, and our livelihoods. To do this,
we need to inspire the next generation of creative thinkers and problem solvers to design the
solutions that will get us there. This Earth Day, let us act boldly, innovate broadly, and implement
equitably. It is going to take all of us!
click here to download NJSACC's Million Girls Moonshot April newsletter (PDF)
In this issue:
MGM Annual Survey for Afterschool and Summer Programs
IF/THEN Ambassador Assets
Don't know where to start in the IF/THEN Collection? Here are some tools to help you!
Earth Day Math Trivia Game
Quality Improvement Opportunity: Are you leading engineering activities in summer of 2022?
Featured Webinars:

Engineering Mindsets – Math
The M in STEM: Making Math Meaningful
Role Models And Mentors as an Equity Strategy

Quality Trainings: DOS Certification Training

April Cohort: Ready, Set, STEM! & Asking Purposeful Questions
April Cohort: Elevating Youth Voice and Choice

Transformative Practices:

Equity and Inclusion
Engineering Mindsets – Math
Incorporating Role Models

National Robotics Week (April 2-10)
National Environmental Education Week (April 18-22)
Families
STEM Transitions, Handoffs, and Coordination
April's STEM Spotlight
Activities for Programs
Additional Professional Development
Mizzen by Mott Moonshot Connection
click here to download NJSACC's Million Girls Moonshot April newsletter (PDF)