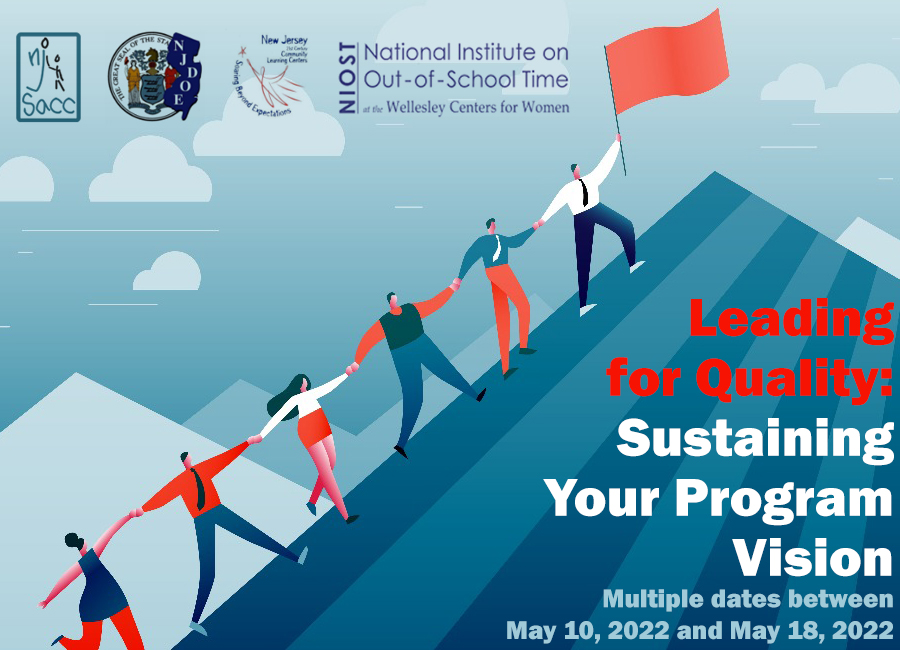 Join us in May for Leading For Quality: Sustaining Your Program Vision – register today!
Today's out-of-school time leaders must skillfully balance a constantly changing "new normal" with the long vision for their youth, staff, program, and community. To help program leaders navigate "now" using a sustainability lens, NJSACC, in collaboration with the National Institute on Out-of-School Time, offers a 4 session leadership training. This year's training will combine long-term thinking and planning with immediate actions you, your staff, and your community can take to help solidify your program's future.
Attendance is required at all sessions.
Cost
$90.00 before Fri Apr 29, 2022
$110.00 after
Registration Closes
Fri May 6, 2022 @ 6:00 pm EST
Session Details
Session 1 May 10, 2022: Planning for Sustainability
Explore what makes a robust sustainability plan, frameworks for developing a plan, and how to align your sustainability plan with your program goals including ways to foster equity, collaboration, and inclusion.
Session 2 May 11, 2022: Partnering and Everyday Advocacy
Gain a broader understanding of the importance of partnerships in sustainability. Develop an Everyday Advocacy mindset that involves every staff person in your sustainability efforts.
Session 3 May 17, 2022: Sustaining Staff and Volunteers
Focus on issues in recruiting and retaining your OST workforce and approaches for addressing these challenges by hearing from others in the field. Let the proverb "It takes a village to raise a child" be our guiding principle in addressing both staff and youth needs.
Session 4 May 18, 2022: Strengthening Your Sustainability Strategy
Determine your program's best next step in developing sustainability. Acknowledge the challenges ahead and what resources can help.
Each 2-hour session, facilitated by NIOST, will be interactive with some large group and small group time and sharing resources. You will leave with a road map for action that you will customize and bring back to your setting.