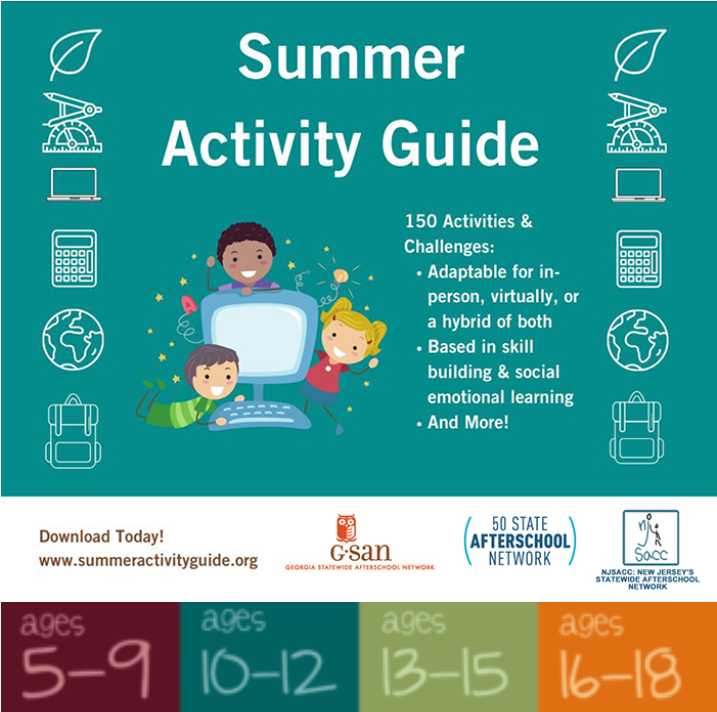 Summer Activity Guide has arrived! Offering 150 activities, Organized by Four Different Age Groups
Are you a youth development or summer learning program looking for fun and engaging activities designed to accommodate COVID19 this summer? Look no further!
The new Summer Activity Guide offers 150 activities and challenges organized by four different age groups and includes guidance on how to support positive youth development.
We heard your concerns about maintaining engagement throughout an atypical summer, and understand your anxieties as you navigate these uncharted territories. The Guide uses a mix of approaches to serve youth this summer, including in-person, virtually, or through take-home activities!
Over the next 10 weeks, activity batches will be provided every two weeks along with supplemental materials throughout to support providers and families in preparation and implementation.
What You Can Expect:
150 Activities and Challenges Segmented into four age groups (5-9) (10-12) (13-15) (16-18) and produced around five themes.
Adaptable for in-person and virtual instruction, or a hybrid of both, as well as sent as take-home packets
Based in skill building & social emotional learning
On-Demand Webinars for Providers
Quick Guides for Providers
How to Recognize Signs and Symptoms of Stress & Trauma in Youth (coming soon!)
How to Manage Staff Stress and Self-Care (coming soon!)
How to Adapt Programming Based on Feedback (coming soon!)
Feedback Form (coming soon!)
Tool to help programs evaluate and continue to adapt their summer programming
Pre-recorded videos walking program staff through an overview of each "Activity Batch," highlighting specific activities, and providing tips for modification.
Quick Guides for Families (coming soon!)
How to Recognize Signs and Symptoms of Stress and Trauma in Youth
Help and Support for How to Implement Summer Programming at Home
Guidance on How to Support Positive Youth Development
The first of five batches was released on 5/27, and others will be released over the next 10 weeks: beginning the week of May 25 through the week of August 14.
Looking for other activities right now? Check out the Mizzen app made just for afterschool and summer programs. Read more about it here.
The Summer Activity Guide has been developed for the 50 State Afterschool Network with leadership from the Georgia Statewide Afterschool Network to engage and support children and youth nationwide.