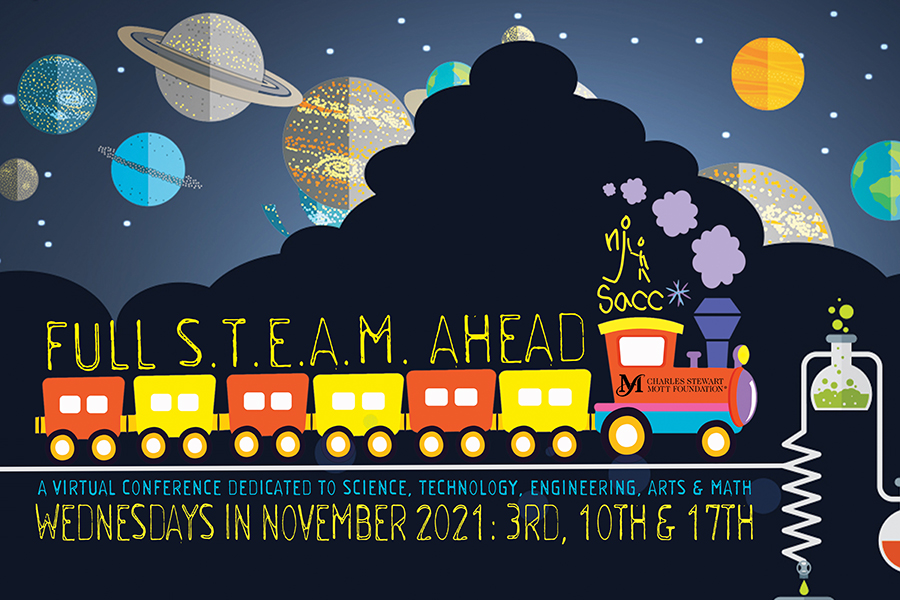 NJSACC: The Statewide Network for New Jersey's Afterschool Communities in partnership with C. S. Mott Foundation Presents:
Full S.T.E.A.M. Ahead November 2021
Wednesdays | November 3rd, 10th, and 17th
Featuring S.T.E.A.M. focused, virtual workshops for providers working with school-age youth

Cost: $30
There will be two sessions daily as follows:
11/3: 10-10:45am and 12:30-2pm
11/10: 10-11:30am and 12:30-2pm
11/17: 10-11:30am, 12:30-2pm, and 2:15pm-3pm (finale)
Who should attend?
Front Line Staff
Program Directors
Youth Workers
Others interested in trying STEAM activities in their afterschool program or anywhere!
For this series, the flat fee of $30 will cover as many or as few workshops as you would like to attend. There will be rolling registration throughout the month. Please review the virtual attendance and cancellation policy below.
Agenda:
November 3, 2021

Mad Science Kick off!

10:00 AM-11:30 AM

Join us for this fun virtual performance to kick off Full STEAM Ahead! Mad Science of Northeast NJ is sure to entertain during this 45-minute session. Just log in and enjoy the show! See you there!

November 3, 2021

NBA Math Hoops: Creating the Next Math Champion

12:30 PM-2:00 PM

During this workshop, educators will be provided with a sneak peak of our new digital program. Participants will learn best practices for implementing the NBA Math Hoops game and curriculum in their program and will have the opportunity to gain access to the Cavaliers Math Hoops trainings that will occur in the fall. Upon completion of the training, educators will be given free access to the Learn Fresh program management platform and all program materials and learn about opportunities to extend students' learning through virtual and in-person community events. Educators will immediately gain access to all materials needed to begin implementing with students in their programs and classrooms.

Calvin Sibert, Chief Academic Officer Learn Fresh Education Co
Rebecca Wong, Program Leader, Learn Fresh Education Co
November 10, 2021

Art x Math = Creativity Multiplied

10:00 AM-11:30 AM

Artists and mathematicians use their own unique languages to understand the world around them. This workshop explores the intersection of art and math through geometry, pattern, symmetry, and more with a focus on MAM's collection of Native American art and the Color Riot! exhibition of Navajo weavings.

Representative, The Montclair Art Museum

November 10, 2021

IF/THEN: Tools for Ensuring Equitable Gender Representation in STEM

12:30 PM-2:00 PM

Do you care about inspiring girls to pursue STEM careers? Then join the National Girls Collaborative Project to learn about the IF/THEN Collection and other tools designed to help ensure equitable gender representation in STEM! The IF/THEN Collection is the world's largest digital library of images, videos, and other content portraying women in STEM. Participants will leave with an understanding of how to access the content in the digital library and how to use it to support their STEM learning programs. All content in the IF/THEN Collection is free of charge.

Jessica Hay, National Girls Collaborative Project
November 17, 2021

Engineering Mindset

10:00 AM-11:30 AM

To create a generation of innovative problem solvers that will shape their world we need to engage youth in engineering activities. Engineering education promotes development of an engineering mindset—the values, attitudes, and thinking skills associated with engineering. This interactive session introduces engineering and engineering mindset, focusing on why they are important. Ten engineering practices that help youth develop and strengthen an engineering mindset will be highlighted. Participants will reflect on examples that illustrate the practices and what they look like when youth engineer. Participants will also leave with strategies for creating engineering environments that are inclusive and invite all learners to participate and develop an engineering mindset.

Shannon McManus, Million Girl Moonshot

November 17, 2021

Learning & Team Building Through Play

12:30 PM-2:00 PM

Play is the most important way that children learn. They learn about the physical, social, emotional, and cognitive worlds around them. As they play with adults, they learn new vocabulary, and build important emotional connections. When they play with their peers, they learn how to treat one another, and come to understand that others have perspectives, rights and feelings that may conflict with their own. They learn to stretch themselves through perseverance and resilience.

Using LEGO® bricks, this workshop will demonstrate how play is the most important way we learn and provides instructors with tools to facilitate hands-on, playful, team building activities in new ways to stretch the children's development. You'll see that these tools also work well with us adults, too.

Tara Williams-Harrington, Bricks4 Kidz of Essex County

November 17, 2021

Mad Science Finale!

2:15 PM-3:00 PM

Join us for this fun virtual performance to celebrate the finale of Full STEAM Ahead Fall 2021! Mad Science of Northeast NJ is sure to entertain during this 45-minute session. Just log in and enjoy the show! See you there!
Virtual Training:
NJSACC offers free and low-cost online professional development workshops that can be done from the comfort of your own home. These trainings are designed to help afterschool professionals complete annual training requirements.
In order to attend any of our trainings, you must obtain a free NJ Workforce Registry number.
If you do not have a NJ Workforce Registry Number, you must obtain one in order to attend this training.
Virtual Training Attendance Policy:
We at NJSACC look forward to you joining us for training. However, if your schedule no longer permits you to do so, we ask that you please withdraw as soon as possible to open up space for others to register and to avoid being marked as a no show. NJ Workforce Registry policy requires that after one (1) No-Show you receive a warning. After a second occurrence of non-attendance at a training, you will be marked again as a No-Show. NJCCIS will then place a temporary block on your account, blocking you from registering for additional training, until that hold is released. While we understand that situations can occur that are beyond our control, we ask that you do your best to withdraw in a timely manner to avoid being temporarily blocked from future training opportunities.
In addition:
There will be a 15 minute grace period for logging into trainings. After 15 minutes, participants will no longer be allowed entry into the training
Participants must stay for the entire training to receive credit.
---
To learn more, please contact Jessica Heiberg at 908-789-0259 or via email
---