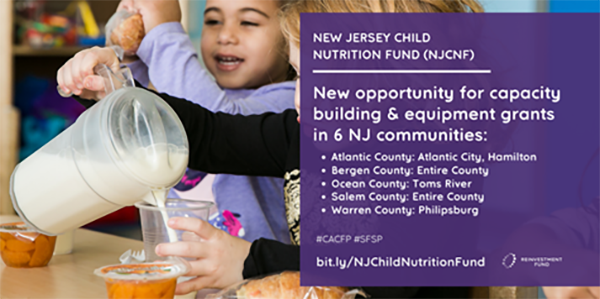 Announcing New Jersey Child Nutrition Fund Grants!
Announcing a new opportunity from the New Jersey Child Nutrition Fund (NJCNF)! For the 2021 funding round NJCNF will focus on capacity building and equipment grants available for organizations participating in federal child nutrition programs in 6 NJ communities:
Atlantic County: Atlantic City, Hamilton;
Bergen County: Entire County;
Ocean County: Toms River;
Salem County: Entire County, and
Warren County: Phillipsburg.
This place-based approach will take a deeper dive into specific communities to strengthen partnerships, identify opportunities to fill gaps in child food access, and seed innovative collaborations. Created and administered by the Reinvestment Fund, and supported by the Robert Wood Johnson Foundation, NJCNF offers resources to organizations working to expand the availability of fresh and nutritious food to children across the state of New Jersey.
Learn more about this new opportunity and view additional resources at: bit.ly/NJChildNutritionFund (link no longer active)