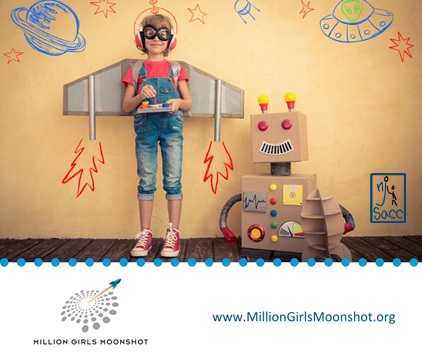 The Million Girls Moonshot: March Quality Trainings and Transformative Practices
The Moonshot will be active in out-of-school programs in all 50 states, leveraging the Mott-funded 50 State Afterschool Network, which has access to more than 10 million youth and 100,000 afterschool programs across the country. Over the course of the new year NJSACC's STEM Specialist Chris Jorn will bring you The Million Girl Moonshot monthly newsletter. Each month Chris will be rounding up accessible training opportunities, role models, and most importantly STEM activities for New Jersey's after school community.
March marks the beginning of Women's History month. What was originally known as "Women's History Week" in 1982, has deservedly transformed over the years into an entire month aimed at recognizing and celebrating the contributions of women in our society, throughout history.
This month, the Million Girls Moonshot will pay tribute to the brilliant minds and contributions of female STEM leaders who have impacted not only their field, but the world around them in meaningful ways. In celebrating the lives of these women and Women's History Month, we must realize that in order for our world to solve some of our biggest challenges — public health, climate change, and cybersecurity — we must remove barriers for girls and women in all STEM disciplines so they can truly thrive!
click here to download NJSACC's Million Girls Moonshot March newsletter (PDF)
In this issue:
Incorporating Role Models

Don't know where to start in the IF/THEN Collection? Here are some tools to help you!
Are you leading engineering activities in summer of 2022?

Featured Webinars

Webinar: The M in STEM: Math in Everyday Life
Webinar: The M in STEM: Making Math Meaningful
Role Models And Mentors as an Equity Strategy
Family Engagement as an Equity Strategy

Quality Trainings

April Cohort: Ready, Set, STEM! & Asking Purposeful Questions
April Cohort: Elevating Youth Voice and Choice

Additional Professional Development

Webinar March 24, 2022: Join the Discussion to Celebrate Women in STEM
Recording: The IF/THEN® Collection in Action… at Museums!
Equity and Inclusion
Toolkit: Women's History Month | Managing American Spaces (state.gov) Resource Toolkit
Toolkit: Math Equity Toolkit
Engineering Mindsets – Math
Professional Development Guide: The National Center for Quality Afterschool – Math in Afterschool
Activity Toolkit: Growing Math
Families
Website: Math Communities
STEM Transitions, Handoffs, and Coordination
Toolkit: Brokering Youth Pathways: A Toolkit for Connecting Youth to Future Opportunity

March's STEM Spotlight

Build a Tiny Dream Home
Code Along
Rebel Girls Activities
Women's History Month

Activities for Programs

Activity Toolkit: STEM Educators Academy Activity Toolkit from ExpandED Schools
Student Activities: 30 Active Math and Activities for Kids Who Love to Move
Student Activities: 21 Cool Math Games and Activities for Kids in Elementary School
Student Activity: Smart Skies
Student Activity: Pi Day Fun!

Mizzen by Mott Moonshot Connection

Playlist: Helping the Planet for 3rd – 5th Grade at Home
Playlist: STEAM Activities for Middle School at Home
Module: Make it Move Invention Camp
click here to download NJSACC's Million Girls Moonshot March newsletter (PDF)