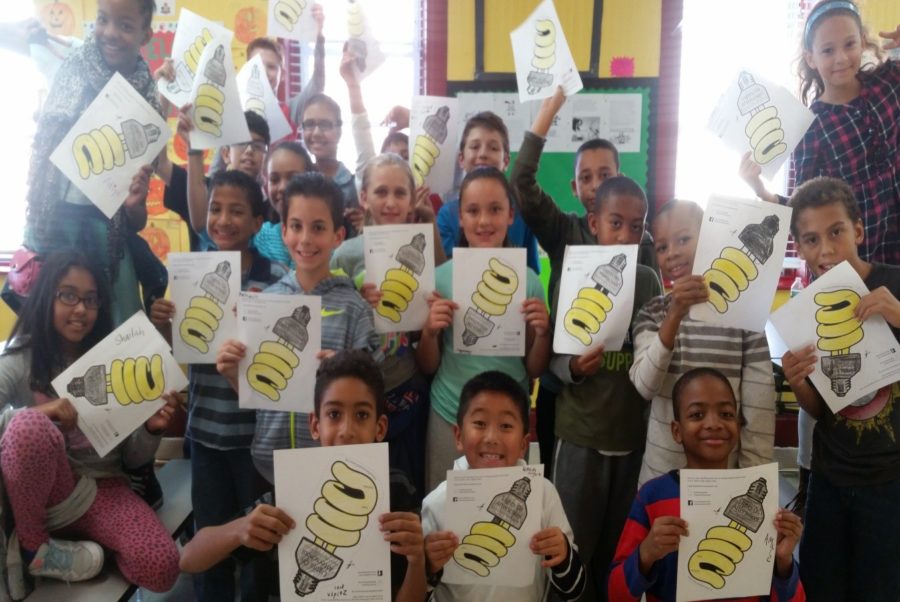 Calling all afterschool artists! Design the Lights On poster and win $500!
By
SHAUN GRAY
Posted: Mar 01, 2022
The Lights On Afterschool poster contest is officially open, and this year we're changing our theme to reflect how youth see themselves and their futures because of their afterschool program!
We've been through a lot over the past few years. Afterschool programs have stepped up their game to support children and families during the pandemic and they continue to provide those supports through the summer. This year, we want you to see artwork that addresses one of the following prompts:
What my afterschool programs means to me. Show us how special your afterschool program is to you. Let us know what makes it stand out and what the program has done to help you succeed.
My afterschool program has helped prepare me for the future. Did your afterschool program introduce you to a new career you didn't know existed? Maybe your program taught you a new skill that you'd like to sharpen. Show us how your program has helped you decide on how to prepare for your future.
My favorite thing about my afterschool program is… Show us what you love to do while your attending your program!
As always, the winning artwork will be printed on more than 50,000 posters that will be displayed at more than 8,000 Lights On Afterschool events around the world. The Lights On Afterschool poster contest is a great opportunity for an afterschool program to gain national recognition for the opportunities it offers. The winning artist will be featured on our website, blog, and a national press release, and their afterschool program will be credited on the poster in addition to receiving the grand prize of $500!
Our team is so excited to receive and share submissions as they come in so make sure to follow us on social media.
Tips for a winning design (Be creative!)
Choose one prompt above and think about a moment when your afterschool program was there to help. No need to include the question on your artwork, please use the entry form to tell us anything that you want us to know about your artwork. Did your favorite afterschool staff person help you find your passion for learning how to code? Is your favorite part of afterschool sharing a snack with your best friend? Did an afterschool staff person help you during a time that was important to you? Let us know.
These ideas can be portrayed in abstract or realistic renderings. Encourage students to use bright, bold markers or paint to bring life to their images and make it possible for us to scan the artwork into a digital file. Or feel free to get your burgeoning graphic designers involved by encouraging them to submit their artwork in the digital form to lightson@afterschoolalliance.org.
Rules and guidelines
Be sure to submit all artwork on 11×14" size paper. Art and office supply stores always have this size paper on hand. This allows us to properly fit the image into our final poster template. Anything smaller than an 11×14", or with different proportions, will make the image impossible to use. For digital submissions, make sure the artwork is in PDF format and is no larger than a 2 MB file with a DPI of 350. For higher resolution photos, email sgray@afterschoolalliance.org and request a link to our file transfer account.
A few don'ts: Because the image will be used to promote Lights On Afterschool events nationally, avoid using a specific program name within the submission. And it's not required that the winning design includes the words Lights On Afterschool and we'll make sure the Lights On logo is included in the final poster image.
If your artists do include the phrase Lights On Afterschool in their designs, make sure "afterschool" is written as one word, consistent with the national branding of the celebration. Keeping those guidelines in mind, be creative as possible!
How to enter
We've provided an entry form to capture all the necessary information that we need, as well as a set of rules and guidelines governing this year's contest.
Be sure to complete the full form and include it with your artwork submission postmarked no later than May 16 to:
Afterschool Alliance, Lights On Afterschool Poster Contest
1101 14th Street NW, Suite 700
Washington, D.C. 20005
For digital submissions, email lightson@afterschoolalliance.org—make sure the artwork is in PDF format and is no larger than a 2 MB file with a DPI of 350. For higher resolution photos, email sgray@afterschoolalliance and request a link to our file transfer account.
Be creative, and most importantly, have fun! We can't wait to see what your students create this year.