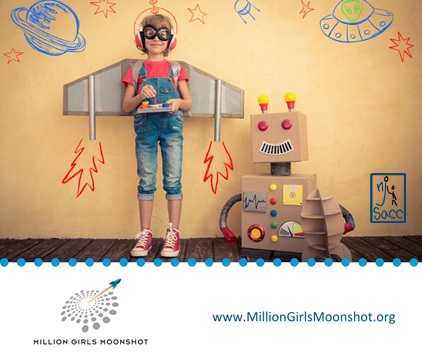 The Million Girls Moonshot: February Quality Trainings and Transformative Practices
The Moonshot will be active in out-of-school programs in all 50 states, leveraging the Mott-funded 50 State Afterschool Network, which has access to more than 10 million youth and 100,000 afterschool programs across the country. Over the course of the new year NJSACC's STEM Specialist Chris Jorn will bring you The Million Girl Moonshot monthly newsletter. Each month Chris will be rounding up accessible training opportunities, role models, and most importantly STEM activities for New Jersey's after school community.
This month we celebrate Engineer Week – Reimagining the Possible and Introduce a Girl to Engineering Day — and we recommit to a year-round effort of cultivating an engineering mindset in girls and youth traditionally underrepresented in STEM fields.
The Million Girls Moonshot is excited to launch recruitment for the inaugural 2022 Moonshot Flight Crew. We are looking for youth advocates — young scientists, engineers, inventors, builders, and leaders who have been inspired by their experience outside of the school classroom. The application window is open through February 25, 2022.
In this issue:
Moonshot Flight Crew
Quality Trainings
Introduce a Girl to Engineering
Featured Webinars
Role Models And Mentors as an Equity Strategy
IF/THEN's Webinars
February's STEM Spotlight
President's Day STEM
Super Bowl STEM
Brain Safety Football STEM Challenge
Valentine Binary Bracelet STEM
Create a Game Show with Kahoot!
Phenomenal Black Women Who Made History
Black History Month
Super Bowl Quiz
Activities for Programs
Incorporating Role Models (For Black History Month & Engineer's Week
For Black History Month and National Heart Month
Families
STEM Activities
Mizzen By Mott Moonshot Connection
click here to download NJSACC's Million Girls Moonshot February newsletter (PDF)