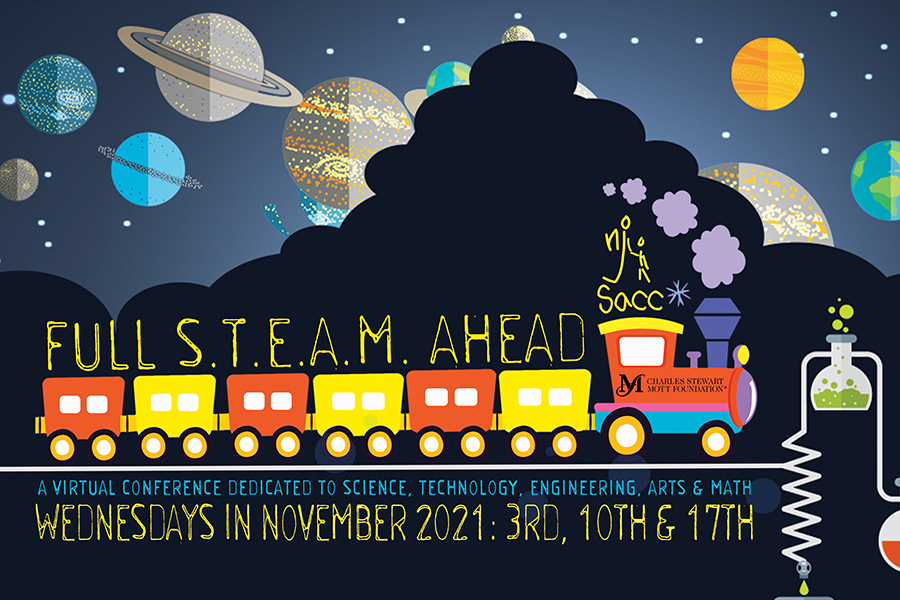 NJSACC: The Statewide Network for New Jersey's Afterschool Communities in partnership with C. S. Mott Foundation Presents:
Full S.T.E.A.M. Ahead November 2021
Wednesdays | November 3rd, 10th, and 17th
Featuring S.T.E.A.M. focused, virtual workshops for providers working with school-age youth

Cost: $30
Who should attend?
Front Line Staff
Program Directors
Youth Workers
Others interested in trying STEAM activities in their afterschool program or anywhere!
SAVE THE DATE – REGISTRATION DETAILS TO COME
For this series, the flat fee of $30 will cover as many or as few workshops as you would like to attend. There will be rolling registration throughout the month. Please review the virtual attendance and cancellation policy below.
Virtual Training
NJSACC offers free and low-cost online professional development workshops that can be done from the comfort of your own home. These trainings are designed to help afterschool professionals complete annual training requirements.
In order to attend any of our trainings, you must obtain a free NJ Workforce Registry number.
If you do not have a NJ Workforce Registry Number, you must obtain one in order to attend this training.
Virtual Training Attendance Policy
We at NJSACC look forward to you joining us for training. However, if your schedule no longer permits you to do so, we ask that you please withdraw as soon as possible to open up space for others to register and to avoid being marked as a no show.  NJ Workforce Registry policy requires that after one (1) No-Show you receive a warning.  After a second occurrence of non-attendance at a training, you will be marked again as a No-Show. NJCCIS  will then place a temporary block on your account, blocking you from registering for additional training, until that hold is released.  While we understand that situations can occur that are beyond our control, we ask that you do your best to withdraw in a timely manner to avoid being temporarily blocked from future training opportunities.
In addition:
There will be a 15 minute grace period for logging into trainings. After 15 minutes, participants will no longer be allowed entry into the training
Participants must stay for the entire training to receive credit.
---
To learn more, please contact Jessica Heiberg at 908-789-0259 or via email
---