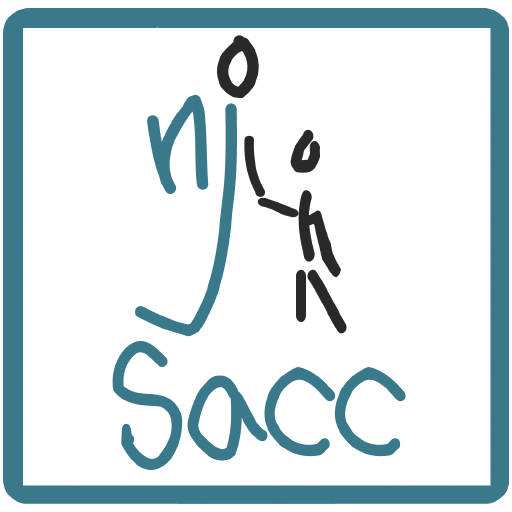 Seeking to fill new positions in this county and want to post your afterschool
job

listings?
NJSACC: The Statewide Network for New Jersey's Afterschool Communities promotes and supports the development, continuity and expansion of quality programs for children and youth during out-of-school time.
We are proud to continue spreading the word about any new positions happening within the Afterschool and Out-of-School time professions.
To include your job listing in our next weekly post, please e-mail a short blurb, logo, all relevant links to apply and contact information via email here.
---
Because the following job listings are posted multiple times on the web, please be aware that some of the positions listed may now be filled.
---
Garfield YMCA Seeks to Fill Part-Time Afterschool Positions
click here to download the application (PDF)
The Garfield YMCA is looking for experienced candidates for our child care services which include before school, after school and summer camp hours. We offer extended day programs from ages 2.5 to 17 years old. Candidate must love working with children, and have combined applicable education and experience. The position can include walking children to sites, getting on the floor to play, outside work, program supervision, teamwork, critical thinking skills, policy enforcement and record keeping.
Candidate will be background checked, finger printed and must pass training upon hiring. All applicants should write a cover letter explaining why they are a good candidate and highlight why they would like the position and email it with resume and completed application.
Applicants applying missing resume, cover letter or resume will not be considered.
Download the application here: http://www.garfieldymca.com/clientuploads/Docs/JobApp.pdf and email all information to taracyma@optonline.net
---
Boys & Girls Club of Lodi & Hackensack Seeks 21st Century Project Director
click  here to email you resume and apply
12 Month Position – 40 Hours per week
The Boys & Girls Club of Lodi and the Lodi Public Schools are seeking a dynamic leader to manage a grant funded 21 st Century Community Learning Center After School and Summer Program.
Job Summary:
The 21st Century Project Director, under the auspices of the Boys & Girls Club of Lodi, leads, manages, provides program oversight, monitoring, technical assistance, support and guidance to 21st Century Site Coordinators, Teachers, Aides, Youth Development Professionals, Support Staff and Volunteers as they implement the 21st Century program to ensure it achieves its goals to provide high-quality after school and summer programs that help students learn and succeed in a changing world.
The 21st CCLC program is designed to provide academic enrichment and a broad array of services to help students meet State academic standards and engage families in their education.
This position also develops and implements reporting tools/processes; manages program evaluation and quality improvement; provides effective communication with program partners; and provides oversight to ensure all program and fiscal requirements are met.
Qualifications:
Education: Bachelor's degree (Master's degree a plus) preferably in education or youth development; thorough knowledge of youth development and program management required.
Experience:
Minimum of two to four years' experience in youth development program management or related field.
Demonstrated ability to train and motivate others required; demonstrated management and leadership skills; experience in youth development and programming for youth in "at risk" communities required.
Experience with project management, collaboration, leadership, and working with multiple partners.
Experience in working with budgets, policies, and Federal/State regulations.
*Bilingual is a plus
Salary:
$65,000-$70,000 (Depending on Qualifications and Experience)
Please submit resume and cover letter to Joseph J. Licata, CEO at Joe.Licata@bgcoflodi.org for consideration by the hiring committee.
*THIS POSITION IS NOT AN EMPLOYEE OF THE LODI BOARD OF EDUCATION*
---
Meadowlands YMCA Seeks  SACC Group Leader – Before & Afterschool Program
click  here to learn more
Provide direct supervision of a group of children in a SACC environment. Provide a quality experience to children while focusing on the YMCA core values of honesty, respect, responsibility and caring. All YMCA Child Care positions follow the required qualifications requirements as outlined by the Manual of Requirements for Child Care Centers – State of New Jersey, Department of Human Services, Division of Youth and Family Services. Must be able to successfully complete background check, fingerprinting and obtain all required certification courses and trainings required and provided by the Meadowlands Area YMCA.
---
Meadowlands YMCA Seek  After School Program Counselors
click  here to learn more
Under the direction of the Project Director, the After School Program Counselors will work 3pm-6/6:30pm, Monday through Friday at the YMCA 21st CCLC Moonachie site and will ensure the successful delivery of the after school program. Working closely with the Program Director and Site Director, she/he will work collaboratively with the school staff team and volunteers to implement an appropriate daily schedule that advances the program goals.
---
Updated: YWCA Seeks Recreation Counselor
click here to download the full job post (doc)
Under the supervision of the Site Supervisor the Recreation Counselor assists group of 15-50 elementary school aged children ages Kindergarten thru sixth grade. The Recreation Counselors ensures the safety of the children as they take them through a schedule of activities that include snack, homework, gym time, arts & crafts, outdoor play, reading, board games, and special events. In addition to modeling and promoting a safe, welcoming and encouraging environment for all participants enrolled.
Interested candidates, please contact: Deanna Maizus, Human Resources Generalist/Recruiter:
YWCA Northern NJ
214 State Street, Suite 207, Hackensack, NJ 07601
Telephone: 201-345-4613
Email: dmaizus@ywcannj.org
click here to download the full job post (doc)
---
Team Makers Seek to fill several positions
click here to learn more
Team Makers is called upon by schools, daycares, camps, parents, youth sports teams and other youth organizations that are committed to offering the children of their communities fun experiences that equip them with the skills needed for success in life. We offer experiences perfect for children aged four to 16 years old. We even work with educators and camp counselors to have them experience increased levels of team interaction.
Their mission is to engage, unite, enable and empower children through teambuilding, leadership and play!
Team Makers seek to fill several positions as follows:
Part time after school enrichment instructor/facilitator in Bergen County area on a school by school basis
Part time but full school year 5 days a week in northern bergen county near NY State. 2 hours per day.
Job Listing:
After School Instructors/Facilitators Wanted in Bergen County. Part time typically 1-2 hours per day (you can decide how many days a week you prefer to work) directly after school days typically from 3:15 to 4:15 pm. Must be on-site 15 minutes before class start time.
Team Makers/Engineering for Kids offers many different after school club programs and needs instructors to lead the classes. You must have your own reliable transportation, must be able to transport the equipment/bags to each class (we can provide folding rolling carts), must be creative and enjoy working with children, must be over 18 and be willing to be background checked.
Team Makers/Engineering for Kids offers paid training, pays for the fingerprint process and pays up to $30 a class plus some travel expenses.
Other daytime and weekend work is also occasionally available.
Please go to our website to learn more about us and then if interested, send resume to: info@teammakersnj.com
Openings are ongoing.
---